OH! CIRCUS, WHICH MADE US DREAM WHILE WE WERE KIDS
ALWAYS STAY OUR FRIEND
AND KEEP MAKE US DREAM FOREVER.

Roland Van Halst, born on August 27, 1946 in Waregem (Belgium)
Roland was born the day of Waregem's big fun fair, and it's also in Waregem that he saw his first circus show, while he was 5 or maybe 6. In 1953, he moves in Brussels during Belgium's biggest fun fair ever, and lived a few meters from it. Circus and fun fair are always part of him since.
While he was 13, on a school bench, he meets Jean, who shares the same passions. They quickly become great friends. Since Jean's place is big, they decide to install a little show room to entertain their class mates on Wednesday and Saturday afternoons. That's while doing so that they create their first duet, Hardiny & Cafeôl (Roland is the clown and Jean the illusionist).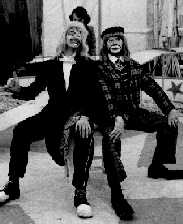 In 1964, they meet the Adler's family (a big fun fair family) and every weekend, they're going to Belgium and Luxemburg's biggest fairs. The Adler's family is just great and allows them to know the ins and outs of the fun fair life. Some day, Arthur Adler tells them : "Go take your stuff and show me your skills ! You'll perform during my parade at the Brussels fair." He's satisfied but still requires a few changes : Roland will take the name of Mario, Jean the name of Buffet.
Taking advantage of the parade, the duet Mario and Buffet just keep moving forward. A bit later, Jean gets married, and his wife joins the show. The trio 'Les Marbuly' is born.
Meanwhile, they meet the clown Bouboule, a great guy who teaches them a lot of things about the job and opens them a few doors in Belgium's show business. In 1972, they join the Piste circus, for a few days substitution.

In 1974, they move to France, having got a contract at the Morallès circus, where Roland meets Gilbert Bertharion, while at Clermont-Ferrand. Gilbert (as Roland) is completely fond of circus, and decides to involve his whole family. One year later, under the Morallès big top, settled on the place du Premier Mai in Clermont-Ferrand, Roland marries Gilbert's daughter, Marie-Christine Bertharion.
In 1976, he travels with the big top 'Birds of the World'. In June, Gilbert announces a big surprise : the Van Halst - Bertharion family is going to get its own circus !
Matthias, his son, is born in 1977. Since Roland stayed in France to live there, he had to leave the Marbulys, who came back to Belgium. With Gilbert and Marie-Christine, he sets a new trio. The Halston Circus and the trio who carries the same name were born… In 1979, Halston circus is ready to start a wonderful adventure that Roland still expects to write some day.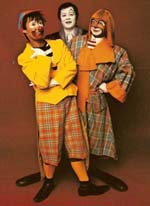 Unfortunately, everything has to be stopped during the 1980 season for different reasons. Moreover, Marie-Christine leaves. And in 1981, Roland comes back to Belgium with his son. A few months later, he joins the Karlton's trio, but to earn his life, he has to take another job too. The Karltons just manage to perform in a few galas. But the average number of galas decrease more and more every year, and the trio has to stop.
Roland keeps his other job in Belgium, a job unfortunately not related to the show business. During his free time, he manages to classify every of his documents related to circus. In 1995, he loses his job. Hoping to get a new one, he explains his idea of a circus center to many people. Most of them find it actually really interesting… but never make it happen. In order to let more people know about the record and documentation center, he decides to create this web site, helped by Matthias. Now retired after having worked as a process-server in a public service, he still hopes that his project of Circus center will some day be open to the public and carry on, allowing everybody to have access to that documentation and to the circus rich history.